The young children walked with Meghan into St George's chapel as she took the first steps down the aisle alone, before being met by Prince Charles who walked with her to meet Prince Harry. However, it was the youngsters in the bridal party, Princess Charlotte and Prince George included, that stole the hearts of the people. Both are also wearing Blues and Royals frockcoats for the Wedding Day.
Whilst on her way to St. George's Chapel she showed off her silly side sticking her tongue out to the crowd and cameras.
Princess Charlotte stretches her leg while waiting with her mother Kate.
Cheeky Prince George, aged four, looked adorable as he lined up alongside Jasper, six, Brian Mulroney, seven, and John Mulroney, seven.
Other bridesmaids include Prince Harry's goddaughters, Zalie Warren and Florence van Cutsem, Ms Markle's goddaughters, sisters Remi and Rylan Litt, and Ivy Mulroney. Made of ivory silk radzimir, the high-waisted outfits with short puff sleeves and pleated skirt were hand finished with a double silk ribbon detail tied at the back in a bow.
Meghan Markle at her wedding ceremony. Traditionally, a wedding day is all about the bride and her groom.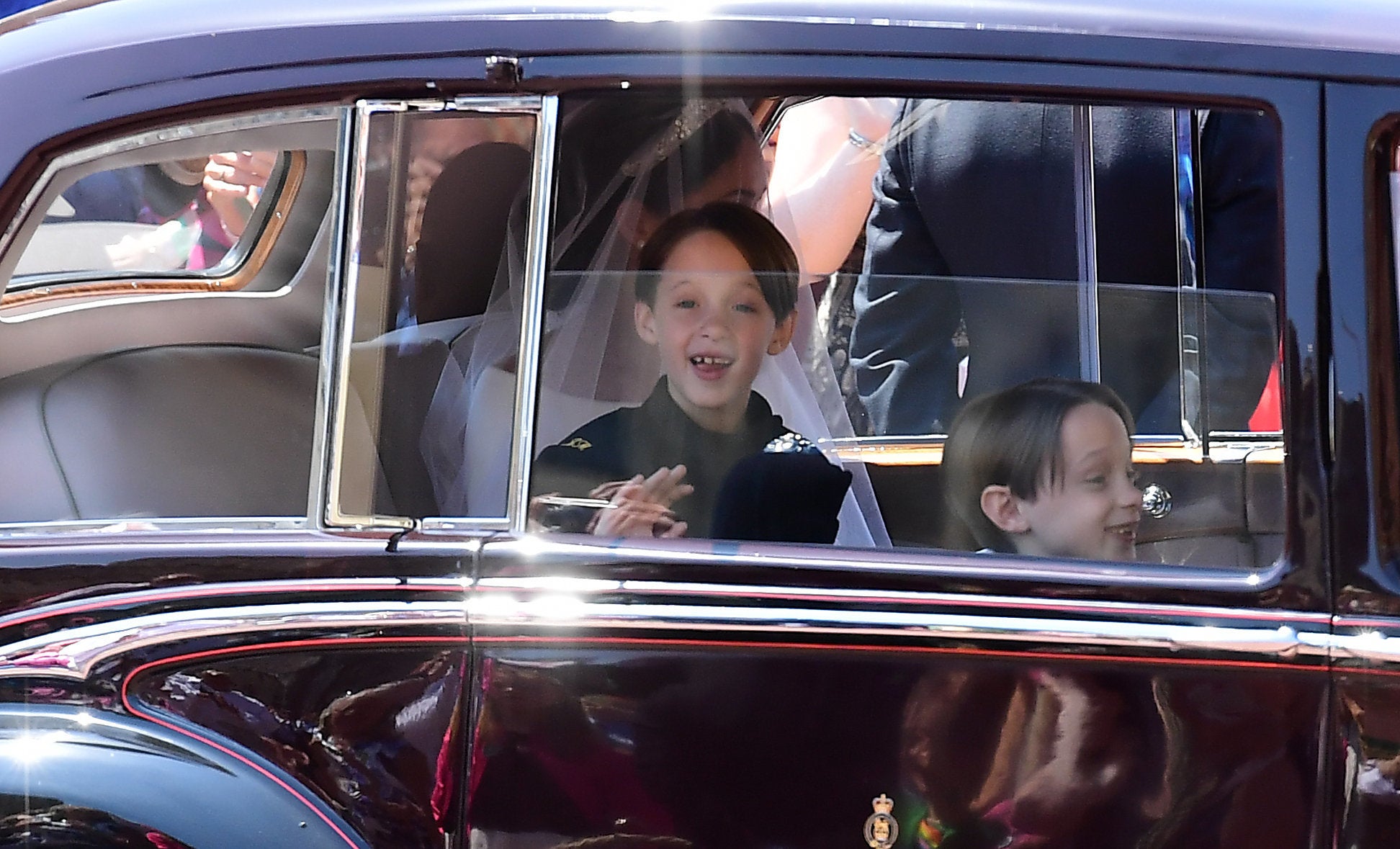 PA Wire PA Images The Mulroney twins couldn't contain their excitement
According to the Palace, the pageboys donned a miniature version of the Blues and Royals frockcoat. As a special memento, George has his initials embroidered in gold on his shoulder straps.
But waiting always got everyone bored, and Princess Charlotte was no exception. She also wore a flower crown and Aquazurra shoes, which were monogrammed and dated, as a gift from Meghan.
Meghan, meanwhile, will not have a maid of honor.
"[Meghan] has a very close-knit group of friends and she does not want to choose one over another", Kensington Palace spokesman Jason Knauf said earlier this month.
Kate and William's third child, Prince Louis, was not expected to attend, as ET learned that the 3-week-old royal would be staying home.
When the prince was a child, he was known for pulling a move similar to that of Princess Charlotte.